TERRAFLEX rubber tiles intended for finishing terraces and balconies are a safe surface resistant to external factors and mechanical damage. These tiles are not only vibro-insulating, water-permeable, anti-slip, frost-resistant, but also have unique aesthetics – they will beautify your private sitting space.

Dimensions: 50x50cm
Thickness: 25/30mm
Colour: Black / Red / Green / Grey
Materials for Architects will be available soon.
DESCRIPTION
PRODUCT DESCRIPTION
TERRAFLEX are the highest quality layered rubber tiles made of SBR rubber granules with a colored top layer. They are characterized by high resistance to abrasion and the influence of unfavorable weather conditions.
TERRAFLEX rubber surfaces are widely used on all terraces and balconies. Simple assembly means that you can even arrange them yourself. No special preparation is needed – the boards are placed directly on concrete, tiles or other even surface.
As an experienced manufacturer of rubber tiles for the terrace, we have made sure that they meet the stringent quality standards and technical parameters:
EU standard PN-EN 1177: 2019 guarantees production in accordance with EU standards
PZH certificate confirms the safety of use
R11 anti-slip class, thanks to which they ensure safety during both winter and rainy weather
resistant to temperature changes
frost resistant
permeable – do not accumulate water. They have been equipped with special systems of linear drains that discharge water towards the slope of the terrain
resistant to dents – thanks to the technology of drilling the connection holes, the rubber terrace tiles do not collapse
homogeneous in their structure, due to which their corners do not roll even after a long time
INSTALLATION
INSTALLATION METHODS
A great advantage of the panels is that they are installed on a 15-20 cm thick aggregate foundation without a stabilizing layer of sand and cement, which significantly reduces the cost of installation. There is also the possibility of installation on concrete and paving stones. The method of assembly with studs eliminates the need for gluing the boards to each other and gluing the boards to the substrate.
Mounting sockets
Each plate is equipped with 16 mounting holes, which can be connected to other elements with the help of corrugated dowels. This solution eliminates the effect of curled edges.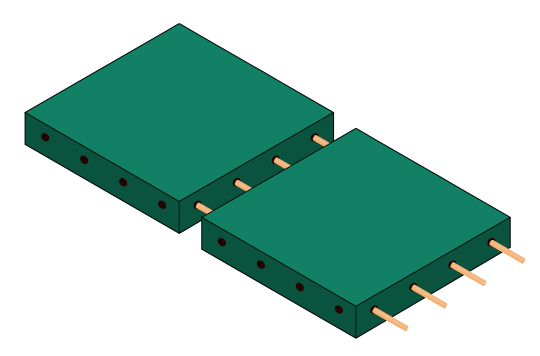 ---
Linear drain system
Ensures a free flow of water in line with the slope of the ground.
---
We can distinguish two ways of laying the boards: adjacent arrangement and on the interlayer.
---
REALIZATIONS
EXAMPLES OF REALIZATIONS