RUBBER PLATES
PROFLEX SBR
PROFLEX SBR rubber tiles are safe playground surface resistant to external factors and mechanical damage, and at the same time remain soft and safe in case of a fall. These safe surfaces are not only vibration-insulating, water-permeable, and slip-resistant, but they are also exceptionally aesthetically pleasing.

Dimensions: 50x50cm
Thickness: 30/35/40/45/50/60/70/75/90mm
Colour: Black / Red / Green / Grey / Blue
DESCRIPTION
PRODUCT DESCRIPTION
The top quality Proflex SBR rubber layer boards are made of SBR rubber granulate with a coloured top layer. Many years of experience helped us to create high quality surfaces with elastic properties and at the same time high resistance to abrasion and the impact of adverse weather conditions.
Proflex SBR boards are manufactured in accordance with the latest EU standard PN-EN 1177:2019. It is a guarantee that thanks to this type of boards you will create a safe surface for playgrounds or gyms (HIC certificate from 1. 0m to 2. 8m). Our SBR plates have also received the PZH certificate.
HIC certificate 1. 0 ÷ 2.8m shock absorption for falls up to 2.8m
EU standard PN-EN 1177:2019 guarantees production in accordance with EU standards
PZH certificate confirms safety of use
R11 anti-slip class
Surfaces made of SBR rubber boards are widely used, including those most often used by the youngest children on playgrounds. They guarantee full safety and maximum health protection while playing, and at the same time they do not limit children's expression. They are installed for many years, because due to the permeable structure and linear drains, they become frost resistant and have high mechanical strength.
In order to provide children with maximum protection against abrasions and unpleasant falls, it is worth reaching for elastic rubber boards PROFLEX SBR !
INSTALLATION
INSTALLATION METHODS
A great advantage of the panels is that they are installed on a 15-20 cm thick aggregate foundation without a stabilizing layer of sand and cement, which significantly reduces the cost of installation. There is also the possibility of installation on concrete and paving stones. The method of assembly with studs eliminates the need for gluing the boards to each other and gluing the boards to the substrate.
Mounting sockets
Each plate is equipped with 16 mounting holes, which can be connected to other elements with the help of corrugated dowels. This solution eliminates the effect of curled edges.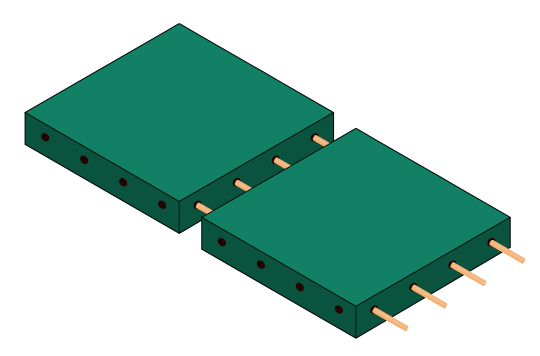 ---
Linear drain system
Ensures a free flow of water in line with the slope of the ground.
---
We can distinguish two ways of laying the boards: adjacent arrangement and on the interlayer.
---
REALIZATIONS
EXAMPLES OF REALIZATIONS