RUBBER GAMES
PROFLEX PLAY
Rubber surfacing with twister and class games are the most popular playground enhancement ideas, but there are more possibilities! You can use the plates with shapes, letters or numbers in any way you like.

Dimensions: 50x50cm
Thickness: 30/35/40/45/50/60/70/75/90mm
Type: Hopscotch/ Twister
Materials for Architects will be available soon.
DESCRIPTION
PRODUCT DESCRIPTION
Creative use of Proflex SBR or EPDM plates. Safety is the most important aspect of children's play. Playground surfacing should be non-slip, abrasion resistant, shock absorbing for falls and pleasant to use, that's the bottom line. But in addition, it can be interesting in its own right and bring a lot of joy to children. How? When you incorporate so-called backyard games into the surface, such as twister or hopscotch. Games can be a part of the surface or, thanks to the use of rubber edging, they can be a separate, separated play zone. This is a great way to increase the attractiveness of any school playground, playground or urban outdoor activity zone.
We manufacture the highest quality SBR and EPDM rubber sheets with shapes, numbers and letters that you can use in your playground project at the nursery, school or in your own backyard. By choosing Proflex tiles manufactured in Poland, you will ensure safe fun for your children.
ADVANTAGES OF PROFLEX PLAY:
installation of the surface does not require a concrete substructure, which reduces the cost of the investment
hopscotch, twister and other backyard games increase the playground attractiveness at a low cost (they can be a good substitute for some elements of playground equipment)
offer the possibility to create countless colour combinations: 5 SBR and 24 EPDM colours to choose from
Proflex Play are manufactured from SBR or EPDM and retain their basic properties for a high quality surface
they are non-slip, which is essential for children's games
they are frost and heat resistant – they do not quickly deteriorate or fade in colour
are characterized by high mechanical resistance – even the biggest rascals won't be able to stand them
The boards are compliant with the latest EU standard PN-EN 1177:2019, and are certified by PZH (an attestation and certificate of the National Institute of Hygiene, which confirms that the product meets two important requirements: it protects human health and protects the environment from the substances contained in the product). And the safety of the fall is confirmed by the HIC certification – HIC 1. 1 m – 2. 8 m means that jumping from these heights will not cause injuries. You can order twister boards or classes with flammability class Cfl-S1, exactly like the entire Proflex surface that will pad the playground floor.
PROFLEX PLAY IDEAS
Rubber surfacing with twister and hopscotch are the most popular playground enhancement ideas, but there are more possibilities! You can use the plates with shapes, letters or numbers in any way you like. For example, we have in our portfolio the implementation of numerical enumerations, invented by the client. Also make use of the letters by arranging the alphabet or any lettering on the playground. Plates with colored wheels can be used for the youngest kids to learn colors or traffic signals. Consult us for your ideas biuro@nawierzchnie24.pl Backyard games can be created by joining square tiles in a contiguous arrangement (so that they meet the whole side) or on a divider, which gives you great freedom in game design.
Take care of the environment – PROFLEX PLAY eco-friendly playground surfacing
Investing in Proflex boards gives you the certainty that you are choosing an ecological product. Granulates SBR and EPDM, from which we produce the surfaces, were created on the basis of tyre recycling. We have technologies that guarantee complete purification of the intermediate product so that it meets safety standards. This is confirmed by the PZH certificate. Proflex Play are safe for children's health (skin, respiratory system) and do not emit substances hazardous to the environment. Thanks to their high density and method of assembly using 16 pins (4 on each side of the slab), they are characterized by very high durability, thanks to which they will serve for years, generating the need for renovation and disposal of the old surface.
APPLICATION, i. e. where you can use PROFLEX PLAY:
school playing fields
playgrounds at school, kindergarten, nursery
municipal parks
sports and recreation centres
backyard playgrounds
INSTALLATION
INSTALLATION METHODS
A great advantage of the panels is that they are installed on a 15-20 cm thick aggregate foundation without a stabilizing layer of sand and cement, which significantly reduces the cost of installation. There is also the possibility of installation on concrete and paving stones. The method of assembly with studs eliminates the need for gluing the boards to each other and gluing the boards to the substrate.
Mounting sockets
Each plate is equipped with 16 mounting holes, which can be connected to other elements with the help of corrugated dowels. This solution eliminates the effect of curled edges.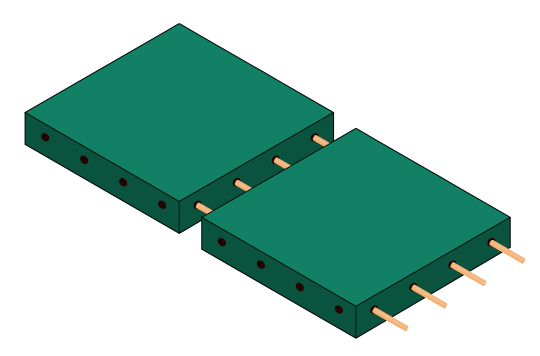 ---
Linear drain system
Ensures a free flow of water in line with the slope of the ground.
---
We can distinguish two ways of laying the boards: adjacent arrangement and on the interlayer.
---
REALIZATIONS
EXAMPLES OF REALIZATIONS