EKOFLEX is a high quality SBR rubber sandwich panels recommended as the surface for the playground at your house.
EKOFLEX rubber boards guarantee full safety and maximum health protection while playing and at the same time do not limit children's expression.

Dimensions: 50x50cm
Thickness: 25mm
Colour: Black / Red / Green / Grey / Blue
DESCRIPTION
PRODUCT DESCRIPTION
Surfaces made of SBR rubber plates are widely used. They are most often used by children in playgrounds, but also by athletes in outdoor gyms. The playground can be combined with an activity zone for children, e. g. with ladders or climbing walls, backyard games like twister, a space for dancing or jumping on a skipping rope. An integral part of the children's playground can be a gym for parents – a perfect way to spend safe time together outdoors or a mini sports field with a football goal or a basketball stand. Ekoflex SBR mats guarantee full safety and maximum health protection while playing and at the same time do not limit children's expression. SBR boards are installed for many years, so it is worth choosing such rubber mats for playgrounds that will be durable and well-thought-out in terms of technology in production. In our offer you will find SBR plates, which are fully safe for the youngest, which is confirmed by appropriate certificates. Ekoflex is a rubber surface for playgrounds manufactured in Poland. The SBR granulate comes from recycled sources.
When creating a playground in the garden, we make many choices – how big the space will be, how to incorporate it into the yard, what attractions to choose for the children. Probably one of the most important arguments during these decisions is the safety of the children. And rightly so! If this is a priority for you, you will definitely be interested in Ekoflex rubber surfacing for home playgrounds.
Why is Ekoflex suitable for children?
rubber granulate sheets are anti-slip – R11 anti-slip class
protect children's joints and absorb falls
the rubber surface is extremely resistant to abrasion and the impact of adverse weather conditions, so it does not deteriorate and is safe for children
the product is certified PZH, which means that it is safe for the health of toddlers (it also does not emit substances hazardous to the environment)
rubber surfaces for playgrounds are very easy to keep clean
have vibration-insulating (sound-absorbing) properties
it is possible to combine Ekoflex surfacing with backyard games such as hopscotch or twister
Home garden playground
When designing a children's playground, consider its surface at the outset. Ekoflex, thanks to its colour scheme (SBR granulate coloured throughout) is visually attractive and worth using. You can choose a single color of pavement or create separate zones, paths or checkerboard. In our offer you will also find rubber edging that acts as curbs, separating the playground from the lawn. To provide children with maximum protection against abrasions and unpleasant falls, it is worth reaching for flexible SBR rubber plates for playgrounds. Such a surface will also be suitable for creating outdoor gyms and activity zones for children and adults.
Rubber surfacing for a garden playground is an investment for years.
Ekoflex is installed with 16 pegs (4 on each edge of a square board) – thanks to this the boards are stable during use, they do not get damaged, wavy or bend their edges. The rubber surface has elastic properties and, at the same time, high resistance to abrasion and adverse weather conditions. We assure you that you will not notice any damage caused by the hot summer sun and the condition of the pavement will not deteriorate even after winter. Ekoflex rubber playground tiles are water permeable, thanks to a hollow hole technology called a linear drain system. No need to worry about lingering water, spilled drinks or snow.
Buying Ekoflex panels is attractively priced because:
you buy straight from the manufacturer
you pay for a high quality product and a well-thought-out installation method ensuring a long service life of the surface
you do not need to invest in a concrete substructure, so the investment cost is lower than for some competing pavements
if you want, you can install the surface yourself
INSTALLATION
INSTALLATION METHODS
When ordering an Ekoflex rubber surface, you can take advantage of the installation service.
If you want to do it yourself, the following information will be useful.
Substrate:
The terrain does not have to be perfectly straight, it can be slightly sloped. It is important that it is aligned. A great advantage of Ekoflex SBR panels is that they are installed on a 15-20 cm aggregate sub-base, without a stabilising layer of sand and cement. SBR rubber playground surfacing will retain its characteristics and protect children from falls even after installation on concrete or paving stones – no need to set aside space on the lawn for a playground or outdoor gym.
Mounting method:
Each SBR mat is equipped with 16 mounting holes which are connected by corrugated pins. This is a very simple puzzle that does not require any glue. Simply press down and enjoy the assurance that the edges of the boards will not curl over time. To ensure that the individual pieces fit together well, we also suggest purchasing rubber edging, or curbing.
Preparation for use and maintenance:
After installation, simply sweep the surface and you're done. Ekoflex rubber surface has self-cleaning properties – thanks to hollow holes it drains dirty rainwater. It does not require special care. Once in a while, you can clean it with a pressure washer or with common cleaning products that do not affect the structure of the rubber surface in any way.
Mounting sockets
Each plate is equipped with 16 mounting holes, which can be connected to other elements with the help of corrugated dowels. This solution eliminates the effect of curled edges.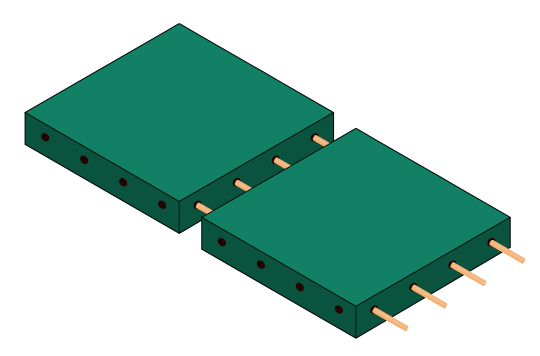 ---
Linear drain system
Ensures a free flow of water in line with the slope of the ground.
---
We can distinguish two ways of laying the boards: adjacent arrangement and on the interlayer.
---
REALIZATIONS
EXAMPLES OF REALIZATIONS